Sat 3 Feb 2007
From FT Alphaville:
Red Kite Management, a $1bn metals-trading hedge fund, has suffered losses of up to 15 per cent so far this year… The news sparked heavy falls on the metals markets…

The report had a marked impact in the metals markets on Friday afternoon. In trading on the London Metal Exchange the price of copper fell 6 per cent, while aluminium was down 3 per cent and zinc slumped more than 8 per cent. ?Fund liquidation?a lot of stops triggered?a lot of the stuff on the back of the Red Kite news,? another trader told Reuters.
While a 15 to 20% loss doesn't seem so bad, the fact that it has occurred in the last 5 weeks may be a harbinger of more trouble…
If we remember how the Amaranth thing unfolded, we could be in for some volatility in the metals markets if/while this thing shakes out… For an example of what could happen, take a look at Natural Gas's prices last year: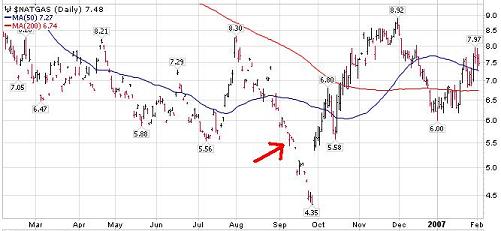 Amaranth got into trouble early in September and the October futures for Natural Gas never recovered…? (The jump up in the chart is when the November futures became the front-month contract.)
I seriously doubt we have another Amaranth on our hands, but the memory of its carnage and market impact is fresh and could create a little panic, and a lot of volatility, in the industrial metals over the next few days or weeks…
One Response to "Another Hedgie in Trouble"
Jason G. Says:
February 5th, 2007 at 8:30 am

According to the news today, the losses may be as high as 30%.