Wed 11 Mar 2009
Short answer: no. At least not from where I'm sitting.
Bear markets don't typically end with a bang like that, and the large single day move is more typical of bear market rallies than of a new bull market. Oh, and maybe we could string together more than a single up-day in a row before getting too excited.
Bespoke points out, "we would note that today's gain is the eighth one-day rally of 5% or more since the S&P 500 peaked in October 2007, and we're lower now than we were at the close of any of those seven other days."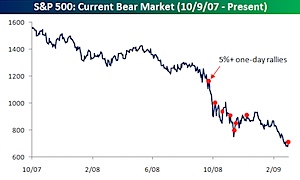 The caveat is that we're long overdue for a rally, any rally, and we could see a reasonable run for a while (translation – 3 to 6 months). The most bearish scenario (from a technical analysis perspective) would be for the S&P to rally to ~740 to test the recent breakout, before turning down again. Also, I've noticed the speed at which markets approach resistance influences whether they will bounce back from those levels — the faster the approach, the more likely resistance will hold.