Mon 30 Nov 2009
From last week's Hussman weekly commentary…
Last week, the Mortgage Bankers Association released the most comprehensive report available on third quarter delinquencies. Here is a summary of points from that report:

?The delinquency rate for mortgage loans on one-to-four residential properties rose to a seasonally adjusted rate of 9.64% percent of all loans outstanding as of the end of the third quarter of 2009. The delinquency rate breaks the record set last quarter. The records are based on MBA data dating back to 1972. The combined percentage of loans in foreclosure or at least one payment past due was 14.41% on a non-seasonally adjusted basis, the highest ever recorded in the MBA delinquency survey.

?Job losses continue to increase and drive up delinquencies and foreclosures because mortgages are paid with paychecks, not percentage point increases in GDP. Over the last year, we have seen the ranks of the unemployed increase by about 5.5 million people, increasing the number of seriously delinquent loans by almost 2 million loans and increasing the rate of new foreclosures (on a quarterly basis) from 1.07 percent to 1.42 percent,? said Jay Brinkmann, MBA's Chief Economist.

?Prime fixed-rate loans continue to represent the largest share of foreclosures started and the biggest driver of the increase in foreclosures. The foreclosure numbers for prime fixed-rate loans will get worse because those loans represented 54 percent of the quarterly increase in loans 90 days or more past due but not yet in foreclosure. The performance of prime adjustable rate loans, which include pay-option ARMs in the MBA survey, continue to deteriorate with the foreclosure rate on those loans for the first time exceeding the rate for subprime fixed-rate loans.

?The outlook is that delinquency rates and foreclosure rate will continue to worsen before they improve. The seriously delinquent rate, the non-seasonally adjusted percentage of loans that are 90 days or more delinquent, or in the process of foreclosure, was up from both last quarter and from last year. Compared with last quarter, the rate increased 82 basis points for prime loans (from 5.44 percent to 6.26 percent), and 216 basis points for subprime loans (from 26.52 percent to 28.68 percent).?
Yikes.
Here's a nice chart from Clusterstock…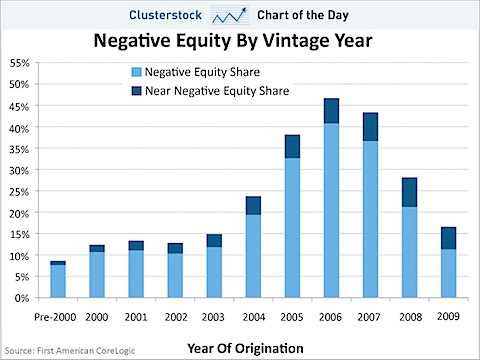 How to read this? For the year 2005, the year I bought my house, over 30% of the mortgages have negative equity.